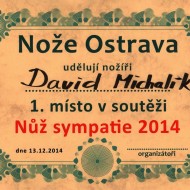 On another international bladeshow we won 1st prize of Knife of The Sympathy 2014!
- Knife of the Sympathy 2014
Today I have brought Kyre elegant knife from the boys from TK knives. Processing excellent, everything fits as it should, and it has a smooth running of the blade with a beautiful clicking sound on the end. Knife surprisingly light, only 150 g. They had a lot of other knives on the exhibition in Brno like folding, fixed and kitchen. Those guys really live for what thy do! I definitely recommend them.
- Petr Syrný, Satisfied Customer
At our first knifeshow whatsoever, on the 14th International Knives Show Autumn Knives Brno we have been honored by award of utility folding knife. The award won our Black Kyre DLC, whose photos you may see in our portfolio.
- Prize for utility folder
Náš nový způsob zesílení pojistky řeší hlavně problém předčasného opotřebení kontaktních ploch mezi čepelí a frame-lockem. Mezi způsoby pojistek, které jistí hlavně třením je bežné opotřebení této pojistky a často velmi rychle neobnovitelné znehodnocení nože. Při otevření nože pojistka zaskočí "za čepel" a zastaví se už s relativně velkou energií  o úhel který je předbroušen […]